DINNER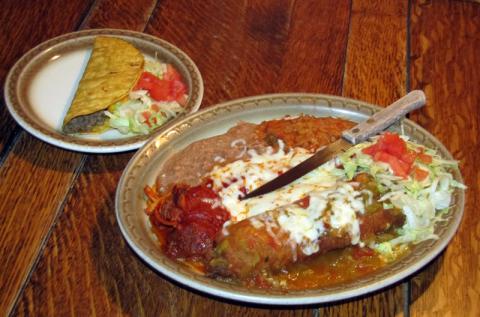 All entrees are served with two Sopaipillas with Honey, choice of Red or Green Chile, Beans, Rice, and a low-fat Mozzarella Cheese, then garnished with Lettuce, and Tomato.   Onions on request.
Sour Cream may be added to any menu item for an additional cost. Blue Corn Tortillas may be added for an additional cost.
Ask Your Server About Vegetarian Options For Most Entrees.
Combination Plate #1
1 Taco, 1 Tomale, 1 Enchilada, Carne Adovada
Combination Plate #2
1 Taco, 1 Enchilada, 1 Chili Relleno & Carne Adovada
Ground Beef Enchilada Plate
(Rolled or Flat) 2 Enchiladas or 3 Enchiladas
If with Chicken, Shredded Beef, or Carne Adovada add cost
Seafood Enchiladas
(rolled or flat) 2 Enchiladas or 3 Enchiladas
Cheese Enchiladas
(rolled or flat)
2 Enchiladas or 3 Enchiladas
Enchilada Plate
(rolled) 1 Red, 1 Green, 1 Ground Beef
If with Chicken, Shredded Beef, OR Carne Adovada – Add cost
Chili Rellenos
(homemade)
1 Relleno or 2 Relleno
Seafood Tacos
(folded)
2 Tacos or 3 Tacos
Taco Plate
2 Ground Beef Tacos (folded) or 3 Ground Beef Tacos (folded)
If with Chicken OR Shredded Beef – Add cost
Huevos Rancheros with Carne Adovada 
2 Eggs any style
Served with Beans & Hash Bowns on a Flour OR Corn Tortilla
If without Carne Adovada
Flauta Plate
3 rolled, Shredded Beef Flautas, served with Guacamole or Sour Cream
If with Chicken – Add cost
Tostada Plate
3 flat Corn Tortillas with Beans and Guacamole
Tostada Compuesta
4 Corn Tortilla cups with Ground Beef, Beans, and Guacamole
Tamales
(homemade) 2 Tamales
Carne Adovada Burrito Dinner
1 Burrito or 2 Burrito
1 stuffed with Ground Beef & Beans served with Rice
2 stuffed with Ground Beef & Beans served with Rice
-
All Meat Plates include Rice & Beans as side
If with Beef or Chicken – Add cost
If with Carne Adovada or Shredded Beef – Add cost
1 Ground Beef & Bean served with Rice
2 Ground Beef & Bean served with Rice
- All Meat Plates include Rice & Beans as side
If with Beef or Chicken – Add cost
If with Carne Adovada or Shredded Beef – Add cost